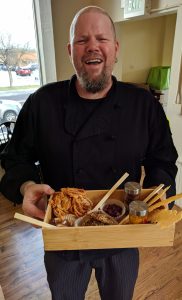 Local Relic is excited to be sharing space in the Carter Payne with an amazing restaurant concept!
Remember Sencha? Conscious Table? Chef Brent Beavers is back! Immerse Cuisine features upscale Colorado Cuisine without the white tablecloths or pretentiousness.
You can read more about them, and see their full menu here!
Inspiration can strike anywhere, and often does! Brewing more than 200 beers per year, head brewer Grant Goodwiler will change how you think about seasonality and local sourcing, and may change how you approach beer in general! With an ever-rotating list of 12 beers on draft, plus 40ish in the bottle (all of Grant's creation, as well!), there's always a reason to come back!