Chef Brent's Dressing
You've been asking us for months (and asking Brent since 1998!), and we can finally say: "Yes, we do offer the dressing for sale!"
Delight friends and family alike (or hoard it for yourself!) with the first two releases of Chef Brent's dressings, the Smoked Tea Vinaigrette and our special holiday Cranberry Sesame Vinaigrette.
They're only available at The Carter Payne!
Paired Dinners
So we're at, what, 40ish paired beverage dinners?  And we're continuing to break new ground!
January 15th, we're going back to our roots with a paired music dinner! Featuring a full soundtrack by Bob, plus food and drinks from the rest of the gang, it's a twist on what we've done recently, but it harkens back to the very. first. dinner. If you're there, you'll hear the story! Tickets are here: www.thecarterpayne.com/product/paired-music-dinner-jan-2023/
February 26th, we're partnering with Lockhart Farms, who brings us The Best Honey in town. We'll be featuring their honey across almost every element of the dinner. As always, the dinners will be seated community style, and the food and drinks are only the beginning of the fun! You'll hear us say, and we mean it, that it's the most fun we know how to have, and we're excited to be able to share it all with you! Tickets are here: www.thecarterpayne.com/product/lockhart-farms-honey-dinner-feb-2023/
And if you let us know, we're happy to print out a certificate you can present as a gift!
Anniversary Bottles
Three amazingly magical beers, each of which has the distinction of being one of our 3 favorite beers of 2022!
Bourbon Barrel Aged Barleywine, lovingly aged 30 month
Bourbon Barrel Honey Brown Sugar Barleywine, aged 24 months with Lockhart Farms honey
Barrel Aged Blended Imperial Ale, an exclusive blend of 5 special barrels
Quantities are limited, grab them while you can!
Imperial, Imperial!
The most imperial of imperial stouts, brewed in 2017, bottled in 2019, and aged and bottle conditioned until now. Clocking at a modest 12.3%, it's the 1.054 FG that really indicates how special this is. Thick, rich, viscous, it's the oil-can-stout you've been dreaming of!
Yes, it's for Member's Only, but it's not too late to get signed up!
Handwritten Love Note Bottles
We've got more than 25 unique bottles, and they make great gifts, but we want to help you put that special touch on it! We've got a handful of label designs just waiting for your heartfelt, handwritten note. We'll help you handpick the right bottle, and then you take it over the top!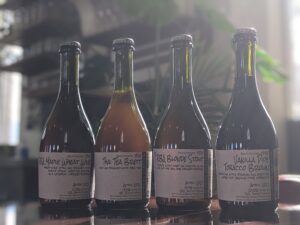 Memberships
Join the club (gift yourself, we don't judge!) or share the love with those you love!  Four of our most exclusive bottles every month, plus a free flight every visit! Add in early access to events, a special monthly members-only party, and exclusive access to special members-only bottle releases? It's the best deal in town!
Gift Cards
And if all else fails, gift cards are always a great idea! And if your friends are hungry (or if they prefer wine or cocktails, gasp!), have no fear — these work anywhere in the space!